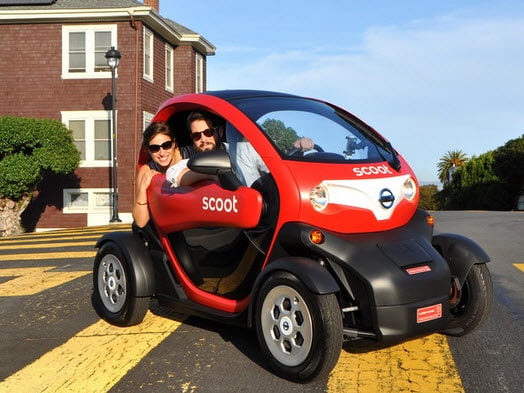 Nissan partnered with Scoot Networks, a company that offers light electric vehicles to San Francisco residents, to research how EV variations can help commuters in busy urban areas. The result of this research so far is a fun little car called the Scoot Quad.
It joins two other pre-existing models offered by Scoot Networks, both of which ride on two wheels. Nissan's Scoot Quad concept is the first model offered by the network that features a four-wheel design and two-seat layout, making the Scoot experience extra fun since it can be shared with a companion. The Scoot Quad also gets better range than the other models (40 miles), which should be expected from a vehicle designed by the creators of the Nissan LEAF. The little car can travel up to 25 mph too, which is also pretty impressive for a miniature EV.
Locals in the San Francisco area can book Scoot Quads using a mobile application and no special license is required to reserve one of the vehicles. Basic liability insurance is also offered to users when they sign up for memberships through Scoot Networks.
Now that you've got a little background on Nissan's Scoot Quad, if you want to see this puppy take on the road, just click the play button below.