Peoria Nissan is delighted to be the commanding supplier for the Nissan 370Z in Arizona. Peoria Nissan is an Phoenix Nissan dealership and carries a colossal inventory of New Nissan 370Z and top quality and high value Used Nissan 370Z and other cars & trucks.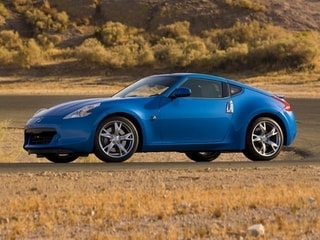 When buyers compare the Nissan 370Z to other makes like the Chevrolet Corvette, Ford Mustang GT and Porsche Cayman, the 2011 Nissan 370Z shines as the most fun-to-drive. Starting with the 2010 Nissan 370Z, owners found this affordable Compact Coupe's crisp handling and lively acceleration to be reason enough to choose.
The Nissan Z-car is a series of sports cars that are reliable, affordable, offer exemplary performance, and simply look good. Since its original design as the Fairlady Z in October 1969 in Japan, it has become the best selling sports car series of all time with over 2 million cars sold.
The 2011 Nissan 370Z Roadster is quick and powerful with 332-hp and 3.7-L V6 engine. This convertible includes a fully automatic top, Nissan's Intelligent Key, available heated and cooled seats, available XM Nav Weather, Zagat Survey streaming audio via Bluetooth. Extensive testing has gone into the Roadster to minimize buffering of air as it moves around, above, and through the cabin, allowing a quieter ride and more effective cooling and heating of the interior.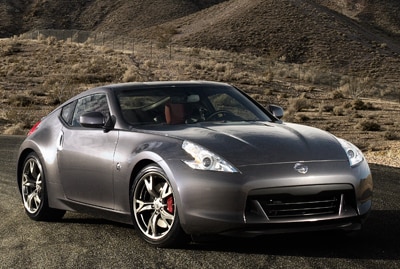 Precise control is what makes the difference between wasting power and maximizing everything 370Z has to give. A nearly 50/50 dynamic weight balance is achieved at the exact moment that the driver accelerates, providing precise handling and better acceleration under the load. Shaving off the overall height makes it have more responsive handling. Cornering is enhanced by widening the track, and reducing the length makes it more maneuverable, in turn enhancing overall performance.
All Z models feature zero front lift, giving a confident, secure feeling and aiding to enhance control. The exclusive engineering is to thank for added quickness. A superb suspension begins with a strong chassis, so Z encompasses an under body V-brace as well as an under the hood 3-point strut tower brace. To enhance even quicker reaction, the front suspension now includes even stronger aluminum components, while still remaining lightweight.
Because Z is extremely commanding, big brakes are part of the package. The most powerful Z comes with available 12-inch front rotors, offering the gripping power of 4-piston front calipers. Purpose-design ducting helps in providing precise and predictable stopping power, as well as reducing fade.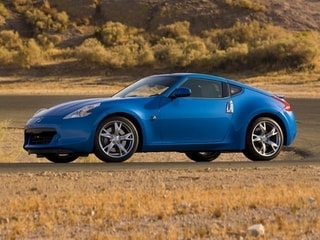 When you compare Nissan 370Z to other sports cars, it's easy to see why Z stands head and shoulders above the competition. Due to its many winning attributes, the Nissan Z wins 2011 Best Resale Value Award from Kelley Blue Book's kbb.com. The 2011 Nissan Z was awarded Best of What's New by Popular Science as well.
The Z is for sale at your Premier Phoenix Nissan dealership. The Z provides a pleasant & exhilarating driving experience and a smooth, firm ride. Whether you're looking for a new Nissan 307Z, a used Nissan 370Z, a gently used 2008 Nissan 350Z, a certified pre-owned 2009 Nissan 370Z, a pristine 2011 Nissan 370Z, or a brand new 2011 Nissan Z, the great Phoenix Nissan Dealer, Peoria Nissan is your #1 resource. We have a variety of Zs for sale, including the 360Z, Nissan 370Z, Nissan 370Z Sport, Nissan 370Z Convertible, Nissan 370Z Coupe, 370Z Touring, 370Z Touring Anniversary, and the NISMO 370Z.
Peoria Nissan offers the Nissan 370Z a 2-door Compact Coupe which seats 2 people sufficiently. The 370Z weighs 3968 pounds, is 167.2 inches long, 72.6 inches wide, 51.8 inches high, and the Nissan 370Z's turning radius is 32.8 feet. highly spacious for its class, the 370Z has 38.2 inches of headroom in the front, and 42.9 inches of legroom up front. In the 370Z's back seat, there are - inches of headroom and - inches of legroom. Need to bring a lot of luggage? The 370Z trunk holds up to 7 cubic feet of your equipment. So, relax and enjoy!
Standard Nissan safety features included in the 370Z are traction control, anti-lock brakes, side airbags, driver airbags, side-impact bars, seat-belt pre-tensioners, passenger airbags. With all these features, the Nissan 370Z is always rated extraordinarily by the IIHS and NHTSA.
The 370Z also has a raft of comfort and convenience features, including power steering, remote locks, power windows, power mirrors, climate control, cruise control, air conditioning, power seats, adjustable steering wheel, and more! Especially nice are available hands-free phone and navigation. Test drive the Nissan 370Z in Phoenix at Peoria Nissan.
Like all Nissan cars & trucks, road handling and performance are top priorities for the 370Z. Passing horsepower in the base 370Z is 332 bhp @ 7000 rpm, and producing excellent torque 270 ft lb @ 5200 rpm foot pounds/rpm, the 370Z accelerates swiftly from 0 to 60 mph in just 5.1 seconds. If you want to go that fast, the 370Z has a top speed of 155 miles per hour. Despite this excellent power train output, the Nissan 370Z's fuel economy is rated at 18 miles per gallon in the city and 26 highway miles per gallon. With a fuel tank capacity of 19 gallons, the 370Z cruising range is well above average. Truly a performance car!
The Nissan manufacturer's warranty covers the 370Z for manufacturing defects and has these specifications 3 years / 36,000 miles. Nissan has worked for years to minimize enviromental impact, and the 370Z's carbon footprint is rated at . Not surprisingly, with all these 370Z advantages, this great Nissan Compact Coupe retains percent of its value at 3 years and 36,000 miles, which makes the Nissan 370Z a great used buy!
When seeking safe, economical, sporty and stylish Compact Coupe, Peoria buyers should head to the Nissan dealer of choice, Peoria Nissan at 9151 W. Bell Rd. in Peoria AZ.