While vehicles are well-known for their sleek style and durable performance, transmission problems can and will occur as the vehicle ages or if proper care isn't taken. Transmission trouble disrupts the normal operation of your vehicle and if it is not repaired quickly, can cost thousands of dollars to repair. It's best to pay attention to the signs that the transmission needs attention and schedule service as quickly as possible. Common signs of a transmission problem include unusual noises, leaking fluid, trouble changing gears, and slipping gears. Use the Nissan transmission tips below to prevent problems.
When Should I Change My Transmission Fluid?
Most vehicle manufacturers and our certified technicians recommend the transmission fluid in your vehicle be changed at least once every three years. Transmission fluid keeps the transmission and all of its components properly lubricated and operating smoothing. Regular changes prevent sludge buildup and many other problems that interfere with your vehicle which could cause costly repairs.
How Long Does Transmission Service Take?

Our factory-certified technicians take the time to provide a thorough inspection of the transmission when you bring your vehicle in for service. However, we understand that time is money and promise to perform our work as quickly as possible. Remember that the type of service you need affects the length of time it will take for our technicians to complete the work.
Can I Drive With a Transmission Leak?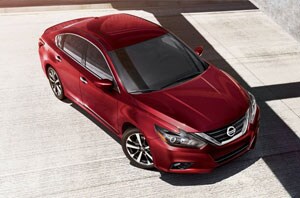 Although it is possible to drive the automobile with a transmission leak, it is best to avoid operating it at all if possible. You should schedule service as soon as possible after discovering a transmission leak. When the fluid is leaking from the transmission, it not only affects the performance of the vehicle but can also cause long-term damage to many different components underneath the hood.
What's the Cost of Transmission Service?
Request your estimate to learn exactly how much you'll pay for transmission service for your vehicle. No two jobs cost the exact same amount because numerous factor influences the price. This includes the type of issues you're experiencing, the type of vehicle that you drive, etc. Rest assured we'll provide you with a competitive rate for our skilled service and we provide many service specials. Furthermore, regular preventative maintenance is much less expensive than repairs and can prevent breakdown and transmission wear and tear.
Service Hours
Monday

7:00 am - 7:00 pm

Tuesday

7:00 am - 7:00 pm

Wednesday

7:00 am - 7:00 pm

Thursday

7:00 am - 7:00 pm

Friday

7:00 am - 7:00 pm

Saturday

7:00 am - 4:00 pm

Sunday

Closed