Peoria Nissan is elated to be the premier source for the Nissan Pathfinder in Arizona . Peoria Nissan is an Phoenix Nissan dealership and carries a large inventory of New Nissan Pathfinder and top quality and high value Used Nissan Pathfinder and other cars & trucks.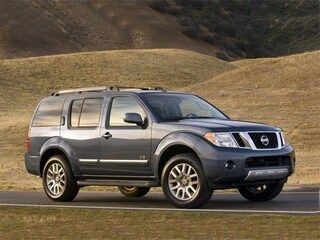 Since its redesign in 2004, Nissan Pathfinder has remained one of the easiest off-roaders to maneuver in difficult conditions. Compare Nissan Pathfinder to a luxury SUV, and you won't see much difference. Pathfinder is rugged and uncrowded, with the larger model being able to carry seven people. Pathfinder's front seats offer comfort for those long hauls, while the second and third rows of seats can fold flat, making extra cargo space. In fact, 2010 Nissan Pathfinder wins AutoPacific Best in Class Vehicle Satisfaction Award for several reasons.
The modern Nissan Pathfinder comes with a 266-hp 4.0-liter V6, a five-speed automatic transmission and rear-wheel drive. Four-wheel drive is optional on the Pathfinder SE, and comes standard on the top of the line Pathfinder LE, which additionally offers an available 310-hp 5.6-liter V8, giving it the most towing capacity and making it the fastest of the three trims. Because of its truck foundation, the Nissan Pathfinder can tow up to 7,000 pounds. The two engine options provide ample capacity for work duty, and braking is assisted by fine-tuned antilock programming that prevents wheels from locking on steep, downhill loose surfaces.
The base Pathfinder S FE+ comes standard with rails on the roof to attach a rack a tow hitch, and a skid plate. The next level up, the Pathfinder S, shares commonalities with the S FE+, but adds a shift-on-the-fly 4x4 switch. The SE includes a leather-wrapped steering wheel, running boards, bigger tires and wheels, power driver's pedals and seat, and offers extra electronics, like Bose stereo with satellite capability and rearview camera. In addition to all of this, the Pathfinder LE boasts even bigger wheels and tires, a heated steering wheel and seats, a sunroof, leather upholstery, as well as an optional navigation system with music storage and real-time traffic.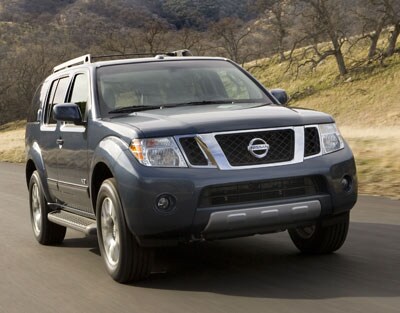 The Pathfinder is for sale at your premier Phoenix Nissan dealership. The Pathfinder provides a pleasant driving experience and a smooth ride. Whether you're looking for a gently used 2008 Nissan Pathfinder, a certified pre-owned 2009 Nissan Pathfinder, a pristine 2010 Nissan Pathfinder, or a brand new 2011 Nissan Pathfinder, Nissan Dealer, Peoria Nissan is your #1 resource. We have a variety of Pathfinders for sale, including the Pathfinder 4x2, Pathfinder 4x4, Pathfinder S, Pathfinder SV, Pathfinder Silver Edition, Pathfinder LE V6, and Pathfinder LE V8.
When buyers compare the Nissan Pathfinder to other makes like the Ford Explorer, Mazda CX-9 and Toyota 4Runner, the 2011 Nissan Pathfinder shines as the most fun-to-drive. Starting with the 2010 Nissan Pathfinder, owners found this affordable Midsize SUV's crisp handling and lively acceleration to be reason enough to choose.
Peoria Nissan offers the Nissan Pathfinder a 4-door Midsize SUV which seats 7 people satisfactorily. The Pathfinder weighs 4621 pounds, is 192.3 inches long, 72.8 inches wide, 72.2 inches high, and the Nissan Pathfinder's turning radius is 39.2 feet. astonishingly uncrowded for its class, the Pathfinder has 40 inches of headroom in the front, and 42.4 inches of legroom up front. In the Pathfinder's back seat, there are 39 inches of headroom and 34.2 inches of legroom. Need to bring a lot of luggage? The Pathfinder trunk holds up to 16.5 cubic feet of your belongings. So, take it easy and have a good time!
Standard Nissan safety features included in the Pathfinder are traction control, anti-lock brakes, side airbags, driver airbags, side-impact bars, seat-belt pre-tensioners, passenger airbags. With all these features, the Nissan Pathfinder is always rated terrifically by the IIHS and NHTSA.
The Pathfinder also has a raft of comfort and convenience features, including power steering, remote locks, power windows, power mirrors, climate control, cruise control, air conditioning, power seats, adjustable steering wheel, and more! Especially nice are available hands-free phone and navigation. Test drive the Nissan Pathfinder in Phoenix at Peoria Nissan.
Like all Nissan cars & trucks, road handling and performance are top priorities for the Pathfinder. Passing horsepower in the base Pathfinder is 266 bhp @ 5600 rpm, and producing excellent torque 288 ft lbs @ 4000 rpm foot pounds/rpm, the Pathfinder accelerates promptly from 0 to 60 mph in just seconds. If you want to go that fast, the Pathfinder has a top speed of miles per hour. Despite this excellent power train output, the Nissan Pathfinder's fuel economy is rated at 15 miles per gallon in the city and 22 highway miles per gallon. With a fuel tank capacity of 21.1 gallons, the Pathfinder cruising range is well above average. Truly a performance car!
The Nissan manufacturer's warranty covers the Pathfinder for manufacturing defects and has these specifications 3 years / 36,000 miles. Nissan has worked for years to minimize enviromental impact, and the Pathfinder's carbon footprint is rated at . Not surprisingly, with all these Pathfinder advantages, this great Nissan Midsize SUV retains percent of its value at 3 years and 36,000 miles, which makes the Nissan Pathfinder a great used buy!
When seeking safe, economical, sporty and stylish Midsize SUV, Phoenix buyers should head to the Nissan dealer of choice, Peoria Nissan at 9151 W Bell Road in Phoenix AZ.