About Peoria Nissan 370Z Reviews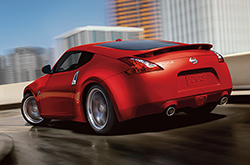 The 2016 Nissan 370Z is available near Phoenix today with the dynamic features buyers desire alongside the practical aspects necessary for an everyday car. Described as one of the most vibrant sports cars available in North America by 2016 Nissan 370Z reviews, this top-notch performer is full of elite details and accents at an alluring value.
Coming off last year's more extensive updates, this year's 307Z features few changes. However, you'll be thankful for the available Bose audio system with Active Noise Cancellation and Active Sound Enhancement that delivers a quiet, smooth ride you'll find irresistible from the very first test drive. This improvement complements the already polished handling provided by the double-wishbone front suspension system and "high response" shock absorbers. Factor in the refined 6-speed manual or 7-speed automatic with Downshift Rev Matching with the powerful 3.7L engine and you have an athletic ride fit for windy Arizona back roads or quick highway accelerations.
Check out the 2016 Nissan 370Z in Peoria and you will likely discover the versatility that has shaped this agile two-seater. From the standard Z Coupe and the convertible Roadster to the ultra-speedy NISMO, the Z lineup is stacked with exceptional options that will please every day drivers and performance enthusiasts alike. Plus, with trims ranging from the base Z and Sport to the Sport Tech, Touring and NISMO Tech, there are plenty of ways to customize your 370Z to meet your practical needs.
Taking a closer look inside, you'll be pleased with the sleek two-seater cabin that is finished with bucket seats, leather accents, Bluetooth technology and extra storage space. Add in the Recaro leather-appointed seats on the NISMO trim or the optional Nissan Navigation system with a 7" touch-screen monitor and you have a top-of-the-line cockpit built for premium comfort.
When looking at the big picture, it's clear that the 2016 Nissan 370Z in Phoenix is an excellent, affordable sports car that is fit for Arizona drivers. From the UV-reducing solar glass meant for hot summer days to the sleek convertible option that would be prime on breezy fall and spring days, the 370Z is an excellent choice for contemporary drivers.
Interested in a 370Z today? Continue reading our 2016 Nissan 370Z review for extra specs and information then schedule a test drive at our location off Bell Road in Peoria today!