Peoria Nissan's 2016 NV Review and Research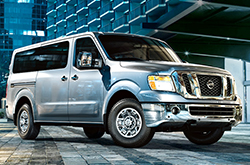 The Nissan NV is a hardworking van that'll help you deliver the goods to your customers. Whether you're in the plumbing or catering industry, 2016 Nissan NV reviews say business owners in any field will be well-assisted by the NV Cargo's configurable, upfit-ready interior. Plus, there are compact NV200 Cargo and full-size NV Passenger vans available, too. If you're shopping for a 2016 Nissan NV in the Phoenix area, visit Peoria Nissan to find all three models of the van!
The NV Cargo is offered in 1500, 2500 and 3500 models, each of which is further broken down into two trim levels: S and SV. Tall and standard roof heights are available, as well as a choice between V6 and V8 engines. Depending on the selected configuration, there's 234-323 cubic feet of cargo area for you to fill up. Just a few standard features offered on the 2016 Nissan NV Cargo include a trip computer, AC, water-resistant cloth seats, pre-wiring for electrical upfitting and 57 reinforced cargo mounting points.
The 2016 Nissan NV Passenger is offered in a sole 3500 grade with a choice of S, SV and SL trim levels. NV Passenger vans offer 324 possible seating layouts, giving shoppers the ability to truly configure the van to meet their business needs. This year, the NV Passenger SL now comes standard with all the contents of its previous Technology package, including hands-free texting capability and NissanConnect with Navigation and Mobile Apps, among other features. If you're shopping for a 2016 Nissan NV in the Phoenix metro area and choose the Passenger, you'll have the same two engine options as the NV Cargo.
The last model in the lineup is the NV200 minivan, which is the ideal choice for business owners who need a compact van. The 2016 Nissan NV200 comes with just the right amount of space for the needs of small businesses, along with plenty of features that make working on the go a breeze. The NV200 minivan offers 122.7 cubic feet of space for cargo and high fuel economy ratings due to its petite size and efficient four-cylinder engine. In addition, if offers features like a fold-down passenger's seat, trip computer, 12-volt power outlet, 20 reinforced cargo-mounting points and more.
After reading Peoria Nissan's 2016 Nissan NV review, please call to schedule an appointment with one of our NV experts.