Peoria Nissan's 2016 LEAF Review and Research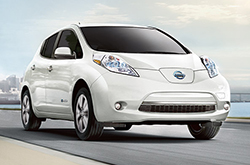 You won't read one 2016 Nissan LEAF review that isn't elated about the car's changes this model year. For green shoppers and tech-forward consumers, this year's updates are truly exciting.
The most notable change for America's top-selling electric car is the addition of a new battery that offers greater capacity, which results in a longer range. Standard on the LEAF SV and SL, the new 30-kWh lithium-ion battery allows the EV to travel up to 107 miles on a full charge. Anyone who buys a 2016 Nissan LEAF in Peoria area will definitely benefit and, if you're wondering how this number compares to last year, it's up a staggering 27 percent. The base LEAF S trim carries on with the previous 24-kWh battery, which continues to achieve a respectable range of 84 miles. When you come test drive a 2016 Nissan LEAF at Peoria Nissan, please feel free to try out both powertrains.
The next biggest update for our favorite EV has to do with infotainment. Sticking to its motto of "Innovation that Excites," Nissan has upgraded the infotainment systems in all LEAF models. The S receives NissanConnect with Mobile Apps and a 5-inch color touchscreen, while the LEAF SV and SL get NissanConnet with Navigation and Mobile Apps and a 7-inch color touchscreen.
On top of this, if you buy a 2016 Nissan LEAF S in the Phoenix area and select the base model, you'll get features such as a rearview camera, remote keyless entry, push-button start, Bluetooth connectivity and heated front seats. The SV adds to this list with features like a heated leather steering wheel, heated outside mirrors and an auto-dimming rearview mirror. At the top of the line, the LEAF SL further augments the equipment list with additions like heated rear seats, leather upholstery, a solar panel, LED headlights and a cargo cover, among other features.
Finish our 2016 Nissan LEAF review below, then call to schedule an appointment for a test drive at Peoria Nissan!