2016 GT-R Research and Review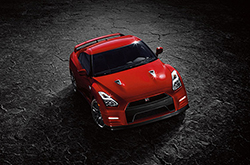 Going on 45 years of exceptional performance, the 2016 Nissan GT-R returns this model year with refined handling, upgraded wheels and an exclusive 45th Anniversary Gold Edition model. Available in Premium, Black Edition or the ultra-sporty NISMO variant, the 2016 Nissan GT-R in Peoria proves itself as a top performer that Phoenix buyers will love to flaunt around town and test on back-road straight-aways. Interested in learning more? Continue reading our full 2016 Nissan GT-R review below for a closer look at this iconic sports car and its legacy of excellence.
Showcasing over 600 horsepower and 480 lb-ft of torque, the 2016 GT-R NISMO is an unparalleled choice for performance enthusiasts looking for a track-ready sports car. Between the 3.8-L V6, unique NISMO suspension tuning, carbon fiber accents and a rigid shell, the GT-R NISMO takes agility to a whole new level and throws in an elite interior in the process.
Of course, there is no going wrong with a GT-R and this holds true with the Premium and Black Edition models. Each of the hand-crafted 3.8-L engines propels the GT-R to soar to new heights with 545 horsepower and 463 lb-ft of torque while the standard Brembo brakes, new 20-spoke wheels, 6-speed dual clutch transmission, rear transaxle all-wheel drive system and driver adjustable shock absorber system provide a top-tier ride you'll love from the very first test drive.
While the GT-R proudly shows off what Edmunds's 2016 Nissan GT-R review describes as an "Olympian powertrain", this elite performer shows there is more than meets the eye with an interior fit for royalty. Equipped with a 7.0-inch navigation and infotainment display, a Bose 11-speaker audio system with dual subwoofers, DVD video playback capability, Bluetooth wireless technology, an auto-dimming inside rearview mirror and leather-appointed, heated front seats, the GT-R is a premium choice from the inside out.
GT-R enthusiasts will be thrilled with the special Gold Edition that comes exclusive this model year. Based off the Premium GT-R, the Gold Edition adds a special gold-tone VIN plate, a commemorative plaque and a "Silica Brass" color.
Built for precision and speed, the GT-R combines upscale details, intelligent features and a wicked powertrain into an elite package marked for performance. Test drive a 2016 Nissan GT-R in Phoenix today and experience this exceptional sports car for yourself.