About Peoria Nissan 370Z Reviews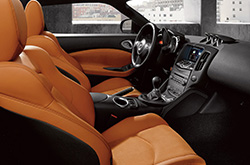 Sports cars have always had the power to get you up to speed, but few if any have ever taken that power and refined it quite like the new 2015 Nissan 370Z in Peoria. With its pure, unadulterated speed and incredible maneuverability, this legendary 2-seater delivers the heart-pumping, white-knuckled, pinned-to-the-back-of-the-seat kind of ride Valley drivers dream about. Read on for more details about this revolutionary ride as our 2015 Nissan 370Z review continues.

Unmistakable and instantly recognizable, the sleek aerodynamic shape and aggressive stance mirror the high-performance capability underneath. The 2015 370Z's low center of gravity, short wheelbase and wide track keep you tight to the road, and the innovative multi-link suspension keeps the tires planted for unprecedented control and acceleration while cornering.

The 370Z Coupe and Roadster are equipped with a powerful 3.7-liter V6 that screams with 332 horsepower and 270 lb.-ft. of torque standard. The newly improved NISMO boasts a specially tuned V6 engine that pushes 350 horsepower and 276 lb.-ft. of torque, and red-lines at a blazing 7,500 RPM. Available with your choice of a 6-speed close-ratio geared manual transmission, or the 7-speed automatic with Downshift Rev-Matching technology, 370Z engines arrive equipped with intelligent Variable Valve Event and Lift (VVEL) which automatically tunes valve timing for quicker response and optimal fuel efficiency.

Just because the new 2015 370Z is fast doesn't make it unsafe; high-performance protection is a paramount concern. An array of innovative, responsive, and preventative safety features are included on every 370Z. From the electronic Brake Assist system to the Traction Control, dual stage supplemental air bags to Active Head restraints, the 2015 Nissan 370Z in Peoria is well-equipped to avoid collisions and comprehensively protect you if you can't evade an accident.

Whether you choose the Roadster Convertible, the sleek coupe or the exhilarating 370Z NISMO, you'll get the drive of your life. Not just a car, but an experience, the 2015 370Z truly is an icon of modern engineering and design. Learning more about Nissan's high-performance sports car as our 2015 Nissan 370Z review concludes below.