Phoenix Sentra Research on the 2015 Nissan Model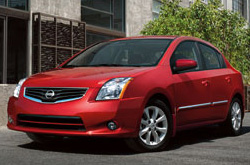 2015 Nissan Sentra reviews take note of the new design cues and report Sentra is looking more like its upscale siblings these days. The standard complement of nice amenities is catching up as well, leaving a well-equipped Sentra in a position to fit in with many premium small cars in the class.

The term "compact" can often mean cramped and Spartan, but that is certainly not the case with the Sentra. Slip inside a 2015 Nissan Sentra in Peoria and you may find yourself surprised at the roominess of the cabin. This handsome compact sedan still has its rivals beat in headroom, legroom and overall passenger space. The Sentra also has one of the roomier trunks in its class. The cabin is also tastefully appointed with soft-touch and high quality materials.

Test-drive a 2015 Nissan Sentra in Peoria and you'll notice the Nissan Sentra is nicely equipped. Driving an economical compact sedan doesn't mean settling. Even the entry-level models include a six-way-adjustable driver's seat, tilt-and-telescopic steering, air conditioning, power windows, power locks, and keyless entry. Move up to the SV trim and you'll also get cruise control, even more speakers, illuminated steering-wheel audio controls, a security system, and premium upholstery. Want a sportier look? The SR trim adds 17-inch alloys, sport grille and fascias, lower-body extensions, fog lamps, and a chrome exhaust tip.

Nissan also covers the bases well when it comes to occupant protection. The Sentra's standard safety equipment includes dual front, front side and full-length side-curtain airbags in addition to traction and stability control systems.

The 1.8-liter inline 4-cylinder engine provides excellent fuel economy and the comfortable and compliant ride serve well for the rigors of daily commuting. With its upscale and spacious interior, low price, great fuel economy, generous trunk space and useful infotainment features, it's hard to think of a reason not to buy a Sentra. Learn more as our 2015 Nissan Sentra review continues below.