About the Nissan Pathfinder in Phoenix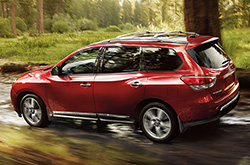 With class-leading features, exceptional fuel economy and outstanding passenger accommodation, the new 2015 Pathfinder truly blazes the trail for the future of the SUV. Built to exceed expectations, this versatile and capable large-size utility is packed with intuitive controls, premium amenities and unbeatable power to deliver the most well-rounded and fun-to-drive Pathfinder ever made.

Living up to its legendary name, the new 2015 Pathfinder is rugged yet sleek, capable yet refined and ideal for all-around driving. From navigating the mean city streets to tearing up the unforgiving back roads, the Pathfinder goes further and hauls more (cargo and passengers) than ever. Innovatively designed to get you and your passengers and your cargo wherever you need to go, this SUV is the vehicle other SUVs aspire to be. Continue reading our 2015 Nissan Pathfinder review for even more information, specifications and features.

Significant improvements on the previous model year make for a leaner, more refined and more family-friendly ride. With the addition of the new Pathfinder Hybrid to the lineup, Nissan has created one of the most efficient SUVs ever made. Backed by your choice of the powerful 260 horsepower 3.5-liter DOHC 24-valve V6 engine, or the 2.5-liter 4-cylinder SuperCharged engine with 15 kW electric motor, you can choose which 2015 Nissan Pathfinder in Peoria is right for you.

Packed with a suite of safety features, the new 2015 Pathfinder is equipped to monitor, prevent, and protect you across the board. A responsive electronic anti-lock braking system, dynamic traction control and innovative Xtronic continuously variable transmission allow for intuitive controls and superhuman response when the unexpected occurs.

An array of high-tech features are also available, from the optional integrated Nissan navigation system, drive assist display, Nissan Intelligent Key and Tri-Zone entertainment system, this Pathfinder keeps you and your passengers happy. Touch screen controls and 2nd row displays round out the interior options for a seriously next-generation family driving experience.

Stop in at our Nissan dealership today to test drive the 2015 Nissan Pathfinder in Peoria, or continue reading our 2015 Nissan Pathfinder review for additional specs, video tours available inventory and more!