Review the 2015 Murano from Nissan Dealer in Phoenix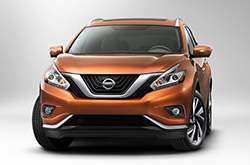 Redesigned for the new model year, the 2015 Nissan Murano exhibits the beauty and styling of a luxury import combined with the economy and approachability of its namesake brand. Improved mileage, increased safety features and an improved interior cargo space make the 5-seater 2015 Murano SUV a must see for anyone in the market for a new crossover. If you are looking for an active and versatile new compact SUV designed for off-road confidence and nimble city-navigation that won't guzzle gas, look no further than the 2015 Nissan Murano in Peoria.�

The perfect combination of utility and style, the 2015 Nissan Murano redefines what it means to be a crossover. Boasting best-in-class cargo space and a wider, lower profile, this modern-day concept is as awe-inspiring as it is functional. With a design based on Nissan's Resonance Concept unveiled at the 2013 Detroit Auto Show, the Murano truly ushers in the future of the crossover. For further details, specifications and information continue reading our 2015 Nissan Murano review below.

The Murano's spacious interior features an array of premium construction materials, with subtle and inviting luxury amenities built throughout the driver and passenger space. An acoustic windshield provides substantial insulation from outside road noise and the new aerodynamic shape helps improve comfort over previous model years. Speaking of comfort, the Murano's NASA-inspired zero gravity seats are engineered to reduce driver and passenger fatigue.

Powered by Nissan's 260 horsepower 3.5-liter Xtronic CVT V6 engine, the new 2015 Nissan Murano in Peoria handles the steepest grades with ease. Dynamic traction management and electronic brake distribution technology is standard on all trims to help improve handling and control. Innovative safety features like dual-stage front and roof-mounted curtain airbags help increase protection in the event of a collision.

From concept to reality, the new 2015 Murano is a testament to the modern driving experience, building on Nissan's legacy of economical and fun-to-drive crossovers and paving the way for the future. Test drive yours today at Peoria Nissan, or read on as our 2015 Nissan Murano review continues with additional specs, video tours and more.