Phoenix Dealer Researching the New Nissan Altima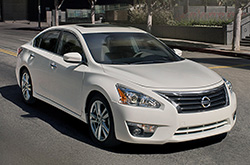 The new 2015 Nissan Altima sedan has sparked a revolution, redefining what it means to be an Altima, and raising the bar for the entire sedan market. Boasting an array of exceptional new features and options, this perennial mid-size favorite delivers a truly complete package. Back with a few new features and upgrades for the 2015 model year, the new Altima features amazing acceleration, premium performance and intelligent innovation. Learn more as our 2015 Nissan Altima review continues into the finer points of this upgraded sedan below.

Extraordinary efficiency is the focus of the all-new 2015 Altima. Capable of attaining an EPA-estimated 38 MPG highway from the deluxe new 182-horsepower 2.5-Liter 4-cylinder engine without sacrificing performance or acceleration, this economical powertrain enables you to drive farther with less fuel. Equipped with Nissan's exclusive Xtronic Continuously Variable Transmission (CVT), the new 2015 Nissan Altima seamlessly shifts gears for a smoother, faster and more fun-to-drive ride.

Major improvements to the driving cockpit include Nissan's Advanced Drive-Assist display. Not just for show, this innovative system puts features like the Bluetooth connect, tire-pressure monitoring system and optional turn-by-turn navigation directly in front of the driver, increasing awareness and driver focus. The NASA-designed, zero-gravity front seats simulate weightlessness, reducing fatigue and stress on longer drives.

Stuffed with a suite of standard safety equipment, the 2015 Nissan Altima in Peoria is dedicated to protection, awareness and collision prevention. Nissan's advanced air bag system includes dual-stage front airbags, supplemental side-impact and roof-mounted airbags for unbeatable collision protection. Available Lane Departure and available Blind Spot warning systems monitor the surroundings for increased attentiveness. Vehicle Dynamic Control and Traction Control systems respond to extreme steering for added control, and anti-lock brakes electronically engage faster for unmatched roadway response.

With an aerodynamically sculptured exterior that perfectly reflects its accommodating and inviting new interior, and packed with advanced technology from the tires to the trunk, the new 2015 Nissan Altima in Peoria is truly ahead of the game. Continue reading our 2015 Nissan Altima review below for additional specs, comparisons and more!