Compare the Nissan GT-R's Specs & Features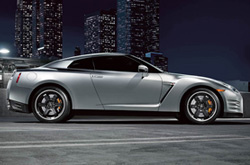 The 2014 Audi RS 5, BMW M6, Porsche 911 Carrera and the Chevrolet Corvette Z06 are no match for the 2014 GT-R! Just compare Nissan's most current model next to them and you'll learn that it beats out the competition easily. The GT-R's sharp exterior design, modern cabin features and inexpensive sticker price are sure to win over AZ shoppers. You'll easily see that when compared to the competition it's a truly outstanding value in regard to price, which is why many Peoria Nissan customers choose it. Find even more useful facts; see our quick-facts list for the GT-R - bullets under this text.
2014 Nissan GT-R Body Style(s): Midsize Coupe
2014 Nissan GT-R Cargo Space: 8.8 cubic feet
2014 Nissan GT-R Seats: 4 passengers
2014 Nissan GT-R 0-60 MPH in 2.8 seconds
2014 Nissan GT-R MSRP: $99,590
2014 Nissan GT-R Doors: 2-door
2014 Nissan GT-R MPG: 16 city / 23 highway
2014 Nissan GT-R Colors: Jet Black, Super Silver, Solid Red, Pear White, etc...