Peoria Nissan Previews the New Xterra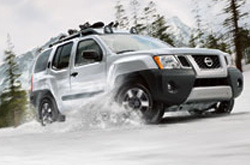 Thanks for choosing Peoria Nissan as your resource for 2013 Nissan Xterra reviews. The Nissan Xterra reviews are created by experienced vehicle authors. It is just one of many resources we provide as the chief Nissan dealership in Phoenix. To make informed decisions when it comes to your next Nissan Xterra purchase, don't guess! Each paragraph is stuffed with material and Xterra features in way that's easy to understand. Good luck in your search!
Watch a Video on the New Xterra
Prominent Specs for the Nissan Xterra
Comparing the 2013 Nissan Xterra against against vehicles like the 2013 Toyota FJ Cruiser, Chevrolet Tahoe, Subaru Forester, Dodge Durango and the Jeep Wrangler, and you will realize that the 2013 Xterra beats out the competition in many areas. Scan our bullets to see why!
2013 Nissan Xterra Colors: Super Black, Lava Red, Metallic Green, Metallic Blue, etc...
2013 Nissan Xterra Cargo Space: 36.3 cubic feet
2013 Nissan Xterra MPG: 16 city / 22 highway
2013 Nissan Xterra Body Style(s): Midsize SUV
2013 Nissan Xterra MSRP: $25,480
2013 Nissan Xterra 0-60 MPH in 7.3 seconds
2013 Nissan Xterra Seats: 5 passengers
Features & Trims Available to Phoenix Nissan Xterra Shoppers
The 2013 Xterra Was Designed With Your Safety in Mind
Peoria Nissan's Service Center Is Here for You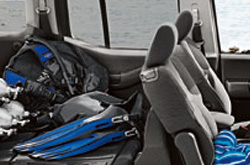 Our Nissan dealership in Phoenix is sited near quite a few local cities! So, you're a quick jaunt away from obtaining accredited OEM parts and work from Nissan technicians! We also supply a long-term warranty on repairs! Keep your Xterra running at its peak; have it serviced by Peoria Nissan's competent car repair crew. We manage a slew of jobs: from more involved, laborious tasks like muffler maintenance to manageable stuff like air filter replacement and standard multi-point inspections. Conjointly, you can expect inexpensive service at our Nissan auto repair center in Phoenix. Get specials online. You can look up discounts by clicking the upcoming line of text.