Phoenix Nissan Dealership Reviews the New Pathfinder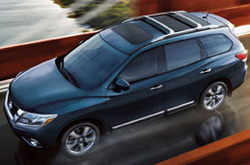 Peoria Nissan is a trusted resource for reviews of the 2013 Nissan Pathfinder - scroll down below the video to begin reading. As the stellar automotive writers performed countless hours of research on the Pathfinder to provide you with the most skillful information possible. To make educated decisions when it comes to your next Nissan Pathfinder purchase, don't guess! Each passage is crammed with material and Pathfinder features in way that's easy to understand. Read on, but don't hesitiate to contact Peoria Nissan for more Pathfinder information.
Video Review of the Nissan Pathfinder
Quick Introduction to the New Nissan Pathfinder in Phoenix
Salient Nissan Pathfinder Specifications
When considering the 2013 Nissan Pathfinder next to the 2013 Dodge Durango, Ford Explorer, Chevrolet Traverse, Mazda CX9, GMC Acadia and the Ford Flex, and you can spot that the Pathfinder outshines those autos in several parts. Get a load of the hightlights below.
2013 Nissan Pathfinder Body Style(s): Midsize SUV
2013 Nissan Pathfinder Cargo Space: 16.5 cubic feet
2013 Nissan Pathfinder Seats: 7 passengers
2013 Nissan Pathfinder 0-60 MPH in 7.8 seconds
2013 Nissan Pathfinder MPG: 15 city / 22 highway
2013 Nissan Pathfinder MSRP: $28,270
2013 Nissan Pathfinder Colors: Super Black, Storm Blue, Pearl White, etc...
Trim Levels & Amenities for Phoenix Nissan Pathfinder Drivers
Powertrain & Engine Info for the 2013 Nissan Pathfinder
The 2013 Pathfinder Was Designed With Your Safety in Mind
Helping You Uphold the Value & Quality of Your Investment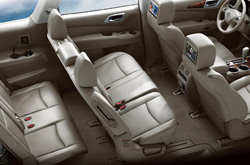 You won't get Nissan trained service techs, a complimentary warranty on service and authentic Nissan parts at a mom and pop auto facility in Phoenix, so visit Peoria Nissan instead. The friendly technicians at our Nissan repair facility in Phoenix will help your Pathfinder run efficiently. We handle a large array of jobs with ease, including Nissan fuel filter replacement, air filter checks and, of course, hard tasks like muffler repair - and this is just a chunk of what we can manage. When choosing a worthy establishment to service your Pathfinder, make a smart choice and get it to Peoria Nissan, where you'll get cheap pricing on Phoenix car service and repair. Click the next link to find the latest service specials now!
View coupon specials from our Nissan service facility online