Phoenix Nissan Dealer Reviews the 2013 Cube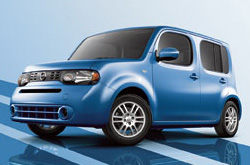 For the full 2013 Nissan Cube review, please scroll past the video below. Where do we get these Cube reviews? From foremost writers in their industry. Filled with beneficial material and specs, each paragraph gives you full access to everything the Nissan Cube has to offer. Watch the video below or skip it to get the Cube review.
View a Walk-around Video of the 2013 Nissan Cube
Specs & Features Bullet List
Compare the 2013 Nissan Cube against vehicles like the 2013 Honda Fit, Kia Soul and the Scion xB, and you'll realize that the Cube outperforms the competition in various areas. Catch a glimpse of our Quick List below to find out why!
2013 Nissan Cube Body Style(s): Compact Wagon
2013 Nissan Cube MSRP: $15,570
2013 Nissan Cube Colors: Cayenne Red, Bali Blue, Bitter Chocolate, etc...
2013 Nissan Cube Cargo Space: 11.4 cubic feet
2013 Nissan Cube Seats: 5 passengers
2013 Nissan Cube MPG: 25 city / 30 highway
2013 Nissan Cube 0-60 MPH in 9.7 seconds
The 2013 Cube Was Designed With Your Safety in Mind
Maintaining Your Investment - We're Here to Help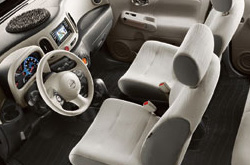 To find exceptional Nissan repair techs and actual factory-made parts, Phoenix Cube owners need not drive far. Go to a venue close to your place of residency, and benefit from the satisfaction that comes with receiving reliable repairs and a no-charge warranty on every service. The old pros at our Arizona Nissan service center can be trusted to keep your Cube in good shape for years to come. We handle a wide array of jobs with no trouble, including Nissan battery replacement, air filter maintenances and, of course, demanding tasks like muffler repair - and this is just a portion of what we can tackle. When electing a reputable place to service your Cube, make a good choice and drive it to Peoria Nissan, where you'll get affordable pricing on Phoenix car service and repair. The link underneath this text is your path to savings! Click now and you'll be transported to our coupon specials page!