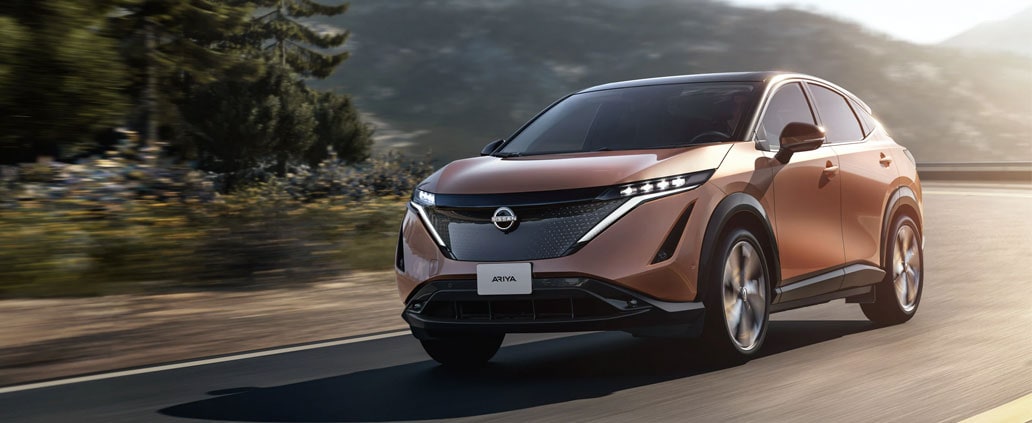 Running on the EV platform, the 2022 Nissan Ariya is a crossover SUV that's powered by electricity. This zero-emissions model is expected to arrive in the North American marketplace in 2021.
Paired with a front-wheel drive (FWD) system, the Nissan Ariya's standard battery has a capacity of 63 kWh. You can upgrade to a 87 kWh battery that's synced with the e-4ORCE All-Wheel Drive. Driven by dual electric motors, the patented AWD system has a peak rating of approximately 390 horsepower. You won't have to worry about changing gear speeds for this all-electric crossover SUV. After taking off from rest, this aerodynamic Nissan model will reach a cruising speed of 60 MPH in approximately five seconds.
You should also look forward to the 2022 Ariya's premium electronic technologies. Powered by the next-generation NissanConnect technology, the infotainment system will come with a 12.3-inch LCD touch screen. A 12.3-inch digital instrument display is strategically positioned next to the multimedia monitor. Amazon Alexa and Google Assistant will provide easy interactions for the driver and all passengers inside this electric vehicle. You can also access Bluetooth, 4G Wi-Fi, Apple CarPlay and Android Auto. In terms of interior, the 2022 Ariya will have futuristic-like accessories, such as front seats with the patented Zero Gravity design. These ergonomic seats are designed according to the latest standards in the aerospace industry.
Metallic, wooden and leather materials decorate the spacious cockpit of this efficient vehicle. The frame also contains other materials that effectively absorb sound from the outside. Therefore, you'll enjoy a quiet ride in the 2022 Ariya, which already has a powertrain that produces little noise.
Equipped with the ProPILOT 2.0 technology, this electric Nissan crossover will lead the class in autonomous driving. You can take your hands off the steering wheel and accelerator during a highly dynamic car ride. The Driver Monitoring System closely analyzes your driving behavior when the autonomous function is turned off. You can also look at the colored head-up display when you navigate busy roads. You'll get other technologies that may prevent severe crashes, such as the Intelligent Emergency Braking and Intelligent Forward Collision Warning. The Rear Automatic Emergency Braking prevents you from backing into other parked vehicles or obstacles.
We're excited about the introduction of the 2022 Nissan Ariya electric crossover SUV. Contact our Nissan dealership to follow the latest developments relating to this all-new electric car.