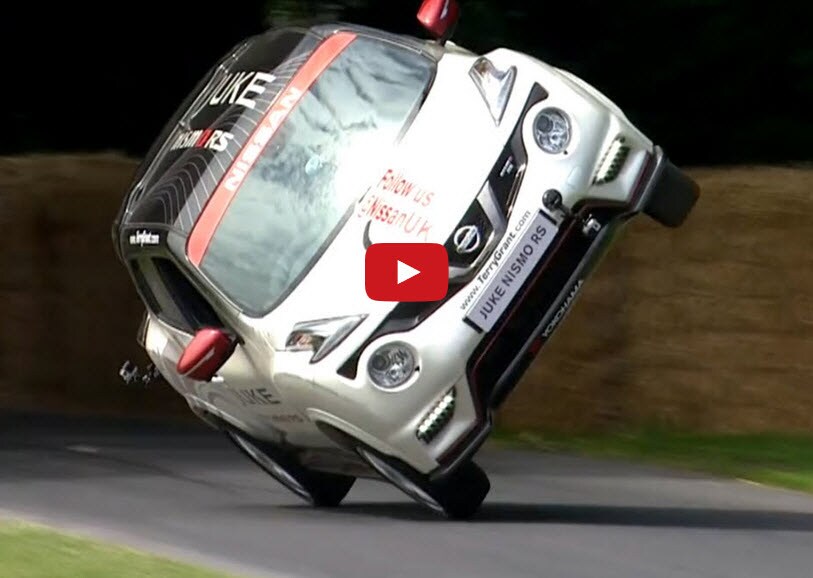 At this year's Goodwood Festival of Speed, professional stunt driver Terry Grant broke his former Guinness World Record when driving a Nissan Juke NISMO RS on two wheels for 1.16 miles! Traveling roughly 30 mph through the iconic Goodwood circuit, Grant managed to balance the Juke over a period of 2 minutes and 10 seconds, which is 45 seconds less than his previous time!
The circuit record on four wheels is a little over 41 seconds, so Grant's timing seems pretty impressive considering that the course is uphill and he only traveled on two wheels rather than four. Terry Grant holds many other records on top of this new title, including Highest Number of Donuts in 100 Seconds, Most People in a Car While on Two Wheels, Fastest Time for One Mile in Reverse, and numerous others that add up to 20 World Records total - and we're sure he's going for more in the future.
With both parents involved in UK motorsports, it's no wonder that Grant had an affinity for driving. He started out on a motorbike at 5 years old and later moved up to driving a car on wasteland and farms at the mere age of 6! Having this sort of background, we're not surprised that he's become a stunt driving legend. Check out the video below to see him in action.