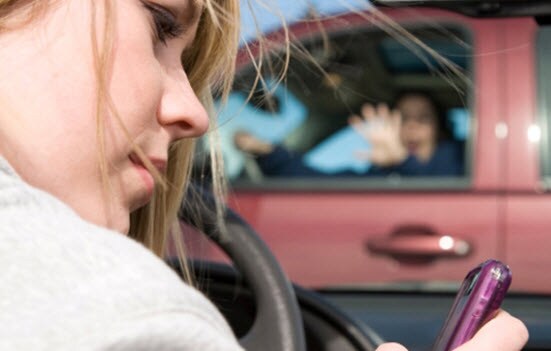 Tired of getting the stink eye from other drivers when you're seen texting behind the wheel? Or find yourself dying to check incoming phone messages, even when there's a cop car behind you? Studies show that you may be addicted to your mobile device, particularly the happiness-boosting hormone called dopamine that's produced when you're using it. But don't worry. There are some apps out there that may be able to help.
Verizon, Sprint, T-Mobile and AT&T all have apps that can assist you with your distracted driving habit. Most are paid, though AT&T offers a free-of-charge DriveMode app for compatible iPhones and Androids that silences incoming text messages when it detects that the driver is traveling above 15 mph. It also sends short replies letting your contacts know that you are driving, and even sends parents a text message if their teen drivers manually turn the app off, which is pretty nifty.
In addition to native cellphone applications, there are apps like DriveSafe.ly, which works with select Android and Apple devices as well. It functions differently than the AT&T app, however. Instead of silencing messages, it reads SMS texts and emails aloud in real time, then sends an auto-response (which can be customized) without drivers needing to touch their phones.
If you have a serious problem with using your smartphone on the road, consider looking into a driver safety app like the ones mentioned above. You'll be much safer for it. Also check out Peoria Nissan's app on iTunes or Google Play! Our dealership app offers several useful features, including the ability to schedule vehicle maintenance appointments - just don't use it while driving.