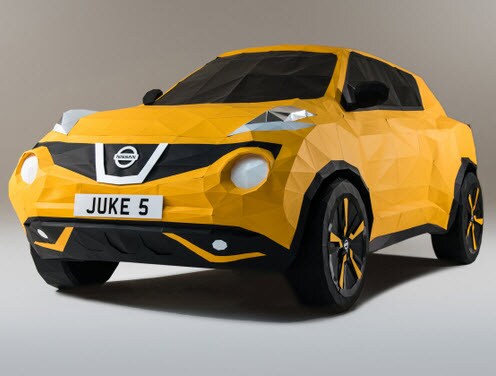 Juke is truly a one-of-a-kind vehicle option. Its looks are unmatched and it doesn't let down when it comes to substance either, offering lively performance, good fuel economy ratings and plenty of features to please shoppers of all kinds.
This is the Nissan Juke's fifth year on the market and to celebrate its anniversary Nissan got British artist Owen Gildersleeve to design a celebratory work of art that's just as unique as its subject. Gildersleeve and a team of helpers embarked on a large project when creating this full-size Origami Juke, which really captures the true look of the SUV, down to its head-turning curves, sharp headlights and prominent grille. The piece required about 2,000 pieces of paper to make and it took the team roughly 200 hours to complete, but all that time and hard work were definitely worth it. The final result is awesome!
Gildersleeve said that creating the Origami Juke was tough but rewarding and he also described the influences behind the piece, stating that the origami was influenced by Nissan's Japanese roots and that all the many pieces of paper were representative of the many, many people who made the Juke a reality five years ago.
Click the play button below to watch the video and see how Gildersleeve and his team created this unique piece.