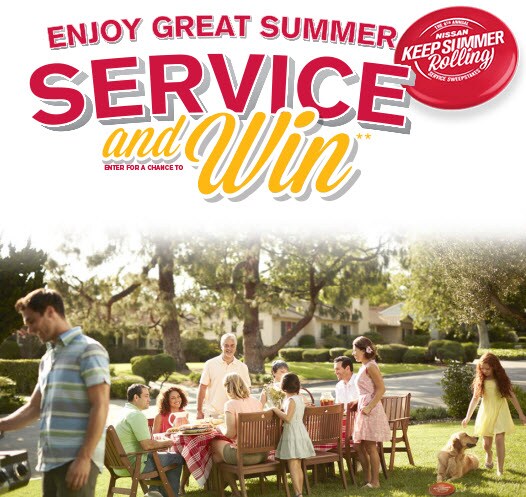 Do you want to win a new car? Or how about prepaid maintenance and gift cards? If so, don't forget to enter the Nissan Keep Summer Rolling Service Sweepstakes before it concludes on Sept. 30, 2015. If you've owned a Nissan or Datsun vehicle since on or before July 31st this year, you can enter for an opportunity to win a brand-new 2016 Maxima, 370Z or Rogue.
Check out last year's Keep Summer Rolling winners below! If you want to be as happy as these folks, write down your VIN number and visit the Keep Summer Rolling website to sign up for the contest and check out official rules.
Along with a chance to win a new car or SUV, there are also daily instant prize winners. Each day of the contest Nissan awards one registrant with a Security + Plus Prepaid Maintenance Plan. Additionally, there are gift card prizes for Facebook, Twitter and Instagram users. On Facebook, there are $100 gift card prizes for those who compete in the photo comment contest, or if you use Twitter and Instagram you can compete for $25 gift cards in the hashtag promotion. New this year, participants can also add Nissan Summer Radio on Pandora for even more ways to take part and win prizes.
Last Year's Keep Summer Rolling Grand-Prize Winners