2017 Nissan Titan Driving Impressions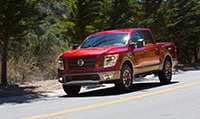 The 2017 Titan has a more rigid frame than before, with increased gusseting, for improved handling, while hydraulic body mounts have been employed for a smoother ride.
We've found the Titan handles more responsively than some of the other pickups, with a firm, controlled feel and crisp turn-in from its rack-and-pinion steering. It's not the softest-riding truck, but the Titan rides much more smoothly than the Titan XD does. On the open highway, it's comfortable.
The 5.6-liter V8 engine is delightful, generating 390 hp and 394 foot-pounds of torque. It's smooth and quiet during normal driving, but stomp on the gas pedal and it growls to life. The 7-speed automatic can at times be slow to respond.
Titan is rated to tow up to 9730 pounds, though we'd vote for a Titan XD before getting anywhere near that number.