2017 Nissan Juke Walk Around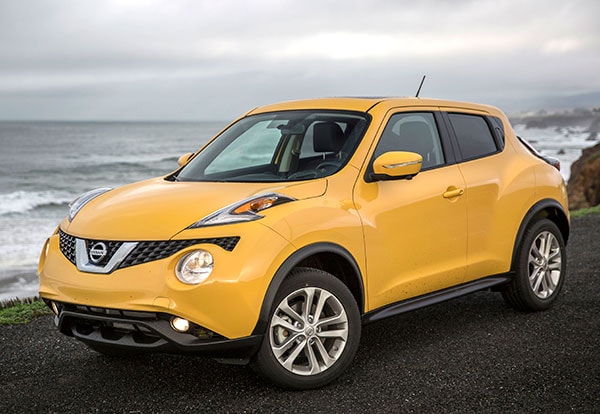 The Juke manages to pull off stubby with futuristic. It attracts a cult following while being polarizing.
It's all bulges and swells. Tall fenders grow out of low bulging headlamps with knifelike turn signals, pinching a mean grille. The roof slopes to the rear passengers' heads, over wide hips that appear sleeker thanks to the hidden rear door handles.
Nissan offers what they call their Juke Color Studio program, which allows buyers to design their own trim selections, with bright colors for the wheels, spoiler, door handles, headlamp trim, side sills, and fascia.
Interior
The inside is consistent with the contradictions of the outside, with spirited colors and fabrics (some would say funky, others might even say cartoonish but still cool), along with hard plastics and other cost-cutting textures.
Nissan says the design of the dash was inspired by the look of motorcycle instrumentation. You can see it, if you try. It's simple, tidy, functional and stylish.
Forward visibility from the front seats is good. Over-the-shoulder visibility is good despite small windows and thick pillars.
In the rear, there's a cramped 32.1 inches of legroom, some seven inches less than the Honda HR-V. And the rear seat is high, lowering the headroom, and the sunroof brings it down more. The Juke might be called a five-seater, but three passengers back there isn't likely.
With the rear seats up, the Juke's 10.5 cubic feet of cargo space is smaller than the trunk of most sedans. We think the rear seats will stay down a lot, revealing 39.5 cubic feet. That's still less than the competition, but at least it's livable.