2017 Nissan Juke Introduction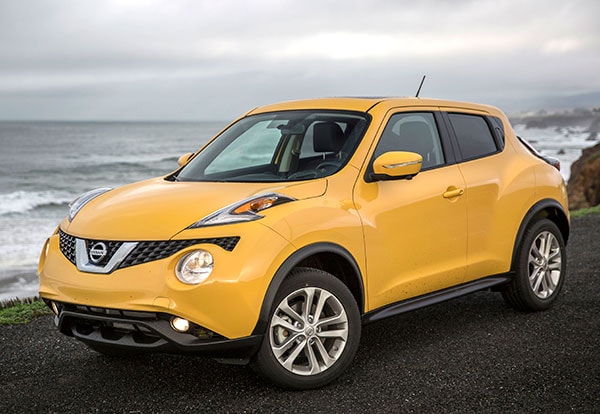 The Nissan Juke is still quirky after all these years. Well, seven of them. The subcompact crossover is small and tall, curvy and hippy, with goony headlights like the eyes of a frog. Its refreshing looks might be the main thing it has going for it, never mind that the reason it's still refreshing is that you see so few of them on the road.
That's not to diminish its exceptionally sharp steering, which is almost as good as the Nissan sports cars. It's just that people don't buy the Juke for that, it comes more as a bonus. And only with the all-wheel-drive version. Which comes with a CVT transmission, not the six-speed manual that's available with front-wheel-drive Nismo and Nismo S models. So forget any sports-car notions.
The Juke is smaller and less functional than other small crossovers, such as the Chevy Trax, Honda HR-V, Fiat 500X, Mazda CX-3, or Subaru Crosstrek. It might be older than those, but it's not as mature or refined.
For 2017, Juke doesn't change. The only thing new is a Black Pearl Edition, with black paint and white sideview mirrors and rear spoiler (speaking of not mature and not refined). Just 1250 will be sold in the U.S. and Canada.
The Juke was one of the first cars to come with a small-displacement turbocharged engine, a 1.6-liter four-cylinder making 188 horsepower. The Nismo performance model gets more boost from the turbo to make as much as 215 horsepower. The Nismo and Nismo RS get nearly 100 more special bits, including a bigger rear spoiler and limited-slip differential in the front-drive models.
That little turbo, as with all of them, is intended to get better fuel mileage and power out of a smaller package, but in the Juke it doesn't fully deliver on the economy. It's rated by the Environmental Protection Agency at 28/32 miles per gallon City/Highway, or 29 mpg Combined, with the CVT (and very similar with the six-speed manual).
By comparison, Honda HR-V hatchback and Subaru Crosstrek, bigger crossovers with bigger non-turbo engines, also rate 29 miles per gallon Combined. And with the Juke, we've found our mileage to be lower than that, mainly because the Juke is so tempting to squirt around that we stay up on the turbo a lot.
And, with a seven-year-old structure, the Juke's crash-test scores are less than cutting-edge; the NHTSA gives it only three stars in frontal impact protection, and the IIHS rates it Poor in its small front-overlap crash test, although Good in most of the other tests. Small consolation: a rearview camera is standard.