Peoria Nissan is enthusiastic to be the premier point for the Nissan GT-R in AZ. Peoria Nissan is a Phoenix Nissan dealership and carries a large inventory of New Nissan GT-R and top quality and high value Used Nissan GT-R and other cars & trucks.
When shoppers compare the Nissan GT-R to other makes like the Audi R8, Chevrolet Corvette ZR1 and Porsche 911 Turbo, the 2011 Nissan GT-R shines as the most fun-to-drive. Starting with the 2010 Nissan GT-R, owners found this affordable Midsize Coupe's crisp handling and lively acceleration to be reason enough to choose.
Now in its third year of production in the United States, the Nissan GT-R begins 2011 with several enrichments and a smaller lineup. The prior GT-R base model has been discontinued, leaving the GT-R Premium as the only available 2011 model. The enhancements for 2011 include double clear coat on the rear and front fascias, slightly darker wheel center caps, and adding rear cooling ducts, which improves cooling performance around the rear floor area. The suspension has been retuned and the rear bushing strengthened to enhance ride comfort while still maintaining GT-R's extraordinary handling. Additionally, speed-sensitive windshield wipers and auto on/off headlights and are now standard, along with Bluetooth connectivity, and a USB iPod interface. The navigation system now includes NavWeather and XM NavTraffic capabilities.
The modern 2011 Nissan GT-R impresses with the use of an advanced VR38DETT 3.8-liter twin turbo V6 producing 485 horsepower at 6,400 rpm and 434 lb-ft of torque at 3,200, while simultaneously producing low emissions. For reduced friction, the engine includes cutting-edge plasma-sprayed bores to replace the prior cast iron liners. Additionally, a secondary air management system is in place for improved cold-start emissions. GT-R also features an oil-cooling system controlled by a thermostat, an oil scavenger pump to maintain oil flowing to the turbochargers, as well as a lateral wet and dry sump oiling system.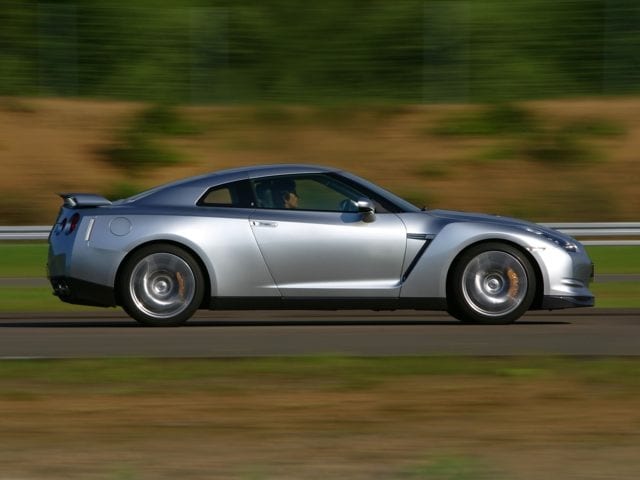 The VR38DETT is supported by a paddle-shifted sequential 6-speed dual clutch transmission, which can be driver selected to shift at race car-like speeds. The sequential-shifting transaxle includes separate wet clutches for the even (2,4,6) and odd (1,3,5) gears and pre-selects the next lowest and highest gears for immediate shifting. Additionally, Hill Start Assist is included for quick starts on steep uphill inclines.
The GT-R is for sale at your Premier Atlanta Nissan dealership. The GT-R provides a pleasant driving experience and a smooth ride. Whether you're looking for a certified pre-owned 2009 Nissan GT-R, a pristine 2010 Nissan GT-R, or a brand new 2011 Nissan GT-R, Nissan Dealer, Peoria Nissan is your #1 resource. We have a variety of Nissan GT-R for sale, including the GT-R Premium. Come see why GT-R was Automobile Magazine's 2009 Automobile of the Year, and why Nissan GT-R wins 2009 Best Resale Value Award from Kelly Blue Book's kbb.com.
Peoria Nissan offers the Nissan GT-R a 2-door Midsize Coupe which seats 4 people comfortably. The GT-R weighs 4669 pounds, is 183.1 inches long, 74.9 inches wide, 54 inches high, and the Nissan GT-R's turning radius is 36.6 feet. astonishingly ample for its class, the GT-R has 38.1 inches of headroom in the front, and 44.6 inches of legroom up front. In the GT-R's back seat, there are 33.5 inches of headroom and 26.4 inches of legroom. Need to bring a lot of luggage? The GT-R trunk holds up to 8.8 cubic feet of your gear. So, take a breather and enjoy!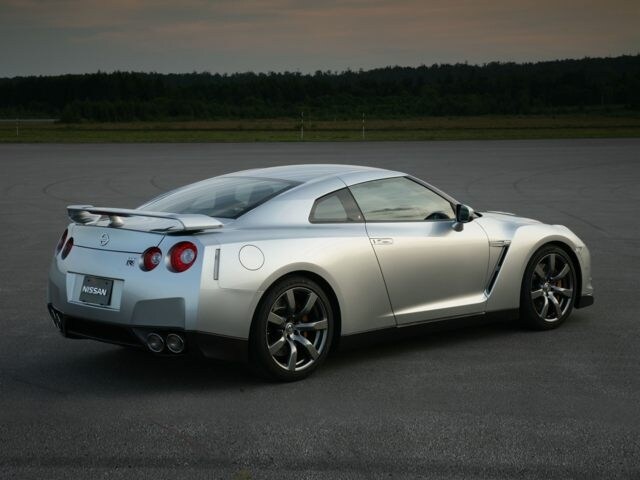 Standard Nissan safety features included in the GT-R are traction control, anti-lock brakes, side airbags, driver airbags, side-impact bars, seat-belt pre-tensioners, passenger airbags. With all these features, the Nissan GT-R is always rated extraordinarily by the IIHS and NHTSA.
The GT-R also has a raft of comfort and convenience features, including power steering, remote locks, power windows, power mirrors, climate control, cruise control, air conditioning, power seats, adjustable steering wheel, and more! Especially nice are available hands-free phone and navigation. Test drive the Nissan GT-R in Phoenix at Peoria Nissan.
Like all Nissan cars & trucks, road handling and performance are top priorities for the GT-R. Passing horsepower in the base GT-R is 485 bhp @ 6400 rpm, and producing excellent torque 434 ft lb @ 3200 rpm foot pounds/rpm, the GT-R accelerates briskly from 0 to 60 mph in just seconds. If you want to go that fast, the GT-R has a top speed of miles per hour. Despite this excellent power train output, the Nissan GT-R's fuel economy is rated at 15 miles per gallon in the city and 21 highway miles per gallon. With a fuel tank capacity of 19.5 gallons, the GT-R cruising range is well above average. Truly a performance car!
The Nissan manufacturer's warranty covers the GT-R for manufacturing defects and has these specifications 3 years / 36,000 miles. Nissan has worked for years to minimize enviromental impact, and the GT-R's carbon footprint is rated at . Not surprisingly, with all these GT-R advantages, this great Nissan Midsize Coupe retains percent of its value at 3 years and 36,000 miles, which makes the Nissan GT-R a great used buy!
When seeking safe, economical, sporty and stylish Midsize Coupe, Peoria shoppers should head to the Nissan dealer of choice, Peoria Nissan at 9151 W. Bell Road in Peoria AZ.