Some automakers design their SUVs for urban roads. Others make cars for unpaved roads. With its stylish, detail-oriented exterior and comfortable interior, the 2019 Rock Creek Pathfinder does both. Its custom exterior, choice of drivetrain, and cutting-edge performance capacity make the SUV especially suited for towing and tackling dirt trails. No matter which lifestyle best describes you, rest assured that you'll find plenty to enjoy in the 2019 Rock Creek edition, which is the most attractive, tech-savvy, comfortable, and performance-oriented Rock Creek trim that Nissan has produced yet.
A Tough Shell
The 2019 Rock Creek edition was given a name to describe its off-road amenities. It was also outfitted with a rugged exterior to match. This year, the SUV's exterior amenities have aesthetic and functional value. You'll notice its black accents right away, including a black mesh front grille with Nissan's logo in the center, custom 18-inch black wheels, black fascias in the front and back, and black-accented roof rails. In addition to these standard amenities, you can upgrade to a special package that adds more black accents across the exterior. With the base package, however, there's plenty to enjoy. The roof rails are equipped to enhance the SUV's looks and also provide support for carrying your cargo around. The wheels, which are slightly larger and wider than the previous model, give you even more grip, traction, and stability when the driving is difficult or you are venturing off-road. While 18-inch wheels are the standard size, you can upgrade to larger 20-inch wheels if you choose. In the back, a trailer hitch is ready to tow up to 6,000 pounds. This towing capacity is the same for both the front-wheel drive and the four-wheel drive configurations. Additional accessories such as splash guards and a wiring harness make towing even safer and easier.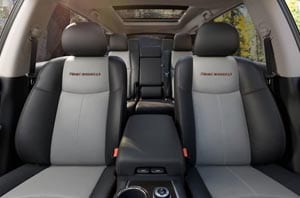 Power and Performance
The 2019 Rock Creek Pathfinder is powered by a six-cylinder 3.5L engine. This engine, which uses standard gasoline, is matched to an automatic transmission. If you choose the four-wheel drive configuration, you'll get more traction and off-road capabilities. This configuration also comes with additional safety amenities for towing, such as hill descent control. However, both drivetrain configurations come standard with hill start assist.
Interior Features
On the inside, the 2019 Rock Creek edition of the Pathfinder is spacious, luxurious, and comfortable. The driver's seat is eight-way power-operated, while the front passenger's seat moves in four ways. Leatherette seats are the standard material, but you can choose to get leather-appointed seats in the first two rows instead. An eight-inch infotainment screen with hands-free Bluetooth and optional navigation is a standard feature. A keyless entry and remote start capacity are notable conveniences, and the SUV comes with a three-zone climate control for comfort in all seasons. The interior is accented with two-tone seats and contrast stitching. Along with standard airbags, the 2019 Rock Creek SUV features a number of safety features, too. On the outside, intermittent rain-sensing windshield wipers are a notable amenity. Standard safety includes intelligent cruise control, a backup camera, and a variety of driver-assist functions.
With a name that matches its off-road capabilities, the 2019 Rock Creek is ready to explore. Seven exterior paint colors, a handful of packages, and stand-alone amenities provide every opportunity for a custom finish. If you want to take the 2019 Rock Creek edition for a test drive or simply find out more about what it offers, don't hesitate to get in touch. We look forward to your phone call, visit, or online inquiry today.