Let's talk about how stressful it is to buy a new car. Not only are you spending a lot of money, you need to watch out for vehicles that may not be the best choice for you. At the end of the process you hopefully have picked out a vehicle that you are going to love for the next few years. One part of the shopping process that a lot of people don't really like is test driving a new car. Once you have narrowed down the choices on our Peoria Nissan lot you will have a few options to consider. Even after trying out a few vehicles you still might not know which one you should pick. Let's take a look at 5 tips you should know about when you test drive a new Nissan.
Do Your Research
It is important not to be influenced during the buying process. A salesperson can have the best intentions but their opinion might not be the same as yours. You may have friends or family that have driven a Nissan and have an opinion. Take the time to do your research and come up with an opinion of your own. Research can also help you narrow down your options and figure out what you would like to spend the most time looking at and test driving. Consider reviews, ratings and specification sheets. This will help you focus when you are behind the wheel.
Think About Size
It can be tempting to be attracted to the larger vehicles on our lot. There are plenty of great features in these vehicles along with tons of power. That doesn't mean this is going to be the best choice for your budget or household. Think about what you can afford. Think about what will fit in your garage. If you work in a major city think about this when you are test driving a vehicle. Consider how easy or hard it will be to park what you are driving.
How Does the Vehicle Feel?
Think about how a new Nissan vehicle feels as soon as you get behind the wheel. Think about the comfort level you experience. Think about how well you can see out the front, side and rear windows. If a vehicle doesn't feel comfortable to you as soon as you get in it then this might not be the right option. Give it a test drive and then make your final decision.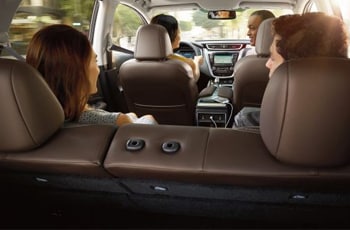 Assess the Safety Features
There are so many different safety features available in vehicles these days. When you are test driving a new Nissan you can take a look at all the things being offered to you. Try out a rear view camera to see if you like it. There are other features to check out like a lane departure warning system and emergency braking assist. There might be things that you love about the vehicle but want to make sure something is added to your final purchase.
Think About Bells and Whistles
Once you have determined that you like the overall drive of a vehicle then you can think about all the smaller features that may or may not be present. You might want to upgrade the size of your infotainment system based on what you experienced during the test drive. Maybe the audio sound system didn't provide the sound you were looking for. You can upgrade this before you drive your new vehicle home. Don't forget about interior colors, exterior colors and potentially upgrading the headlights if you want something whiter and brighter. These are all things you can experience when you test drive a Nissan.
Test-driving a new vehicle doesn't mean you will automatically know what you want to purchase. After you try everything out once you can then think about each vehicle separately. You may even want to test drive a certain Nissan vehicle again. Utilize these helpful tips to make the best decision that you will be happy with for years to come. If you have any questions there is always someone available at Peoria Nissan will assist you.