What Technology Is Available In The 2019 Altima Edition ONE?
In-car technology is definitely one of the defining features of today's generation of automobiles, and there is no doubt that every single vehicle on the market today is light years' ahead of those produced even a decade ago in terms of technology. For some people, the various technological features and functions can be the overall determining factor when deciding which new vehicle to buy. In this regard, there is no doubt that the all-new 2019 Nissan Altima Edition ONE is worth a look. In fact, after learning all there is to know about the range of intuitive technology it features, you'll immediately understand why it's quickly becoming one of the year's most anticipated models.
For many years now, Nissan has been focused on pushing the envelope in terms of in-car entertainment and safety technology. As a result, this 2019 Altima Edition ONE features a wide range of the same Nissan Intelligent Mobility technology found on most other new Nissan vehicles. However, the Altima Edition ONE takes things much further and is the first ever vehicle to feature the all-new Nissan Concierge service.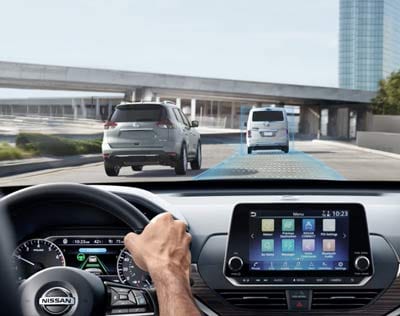 Stay Safer with Nissan Intelligent Mobility Technology
Nissan Intelligent Mobility is the name given to the company's suite of advanced safety features, which are designed to provide drivers and their passengers with full 360-degree protection. On the Altima Edition ONE, automatic emergency braking and rear automatic braking can assist you in avoiding a crash. Similarly, the vehicle also features a lane departure warning, blind spot warning, rear cross traffic alert and high beam assist for added protection.
All of these features ensure the Nissan Altima Edition ONE is one of the safer vehicles on the road, but it gets even better when you add in the features of the Nissan ProPILOT Assist. This advanced driver-assist program takes advantage of the vehicle's Intelligent Cruise Control and Steering Assist technology to take over some of the responsibilities. When the system is engaged, it will help to maintain the appropriate distance between you and the vehicle in front of you and also ensure you remain in the center of your lane even around bends and curves. In fact, the system can even bring you to a full stop whenever traffic comes to a standstill and then immediately take you back up to speed once traffic starts moving again.
Nissan Concierge Service: Your Personal Assistant on the Road
One of the biggest things that sets the all-new Altima Edition ONE apart from every other vehicle on the road is the inclusion of Nissan's new concierge service. In fact, every new Edition ONE comes with a complimentary three-years of concierge service. With this, you can use your vehicle's display to instantly access your own personal concierge team whenever and for whatever you need. As well, the system can also be accessed via Amazon Alexa or Google Assistant voice commands or via phone, email or text.
Use it to make travel arrangements, get driving directions or road and weather info. Call to make reservations at your favorite restaurant or to make sure you don't miss out on tickets to that hot new show or concert. The range of services your personal Nissan concierge team can perform is almost limitless, which is yet another reason why you'll be happy you chose to go with the Altima Edition ONE.
Of course, all of this technology sounds great on paper, but it is essential that it all performs as well as advertised when it really matters. This is precisely why we want to invite you to visit our Nissan dealership where our knowledgeable sales team would be happy to give you a full demonstration in person.