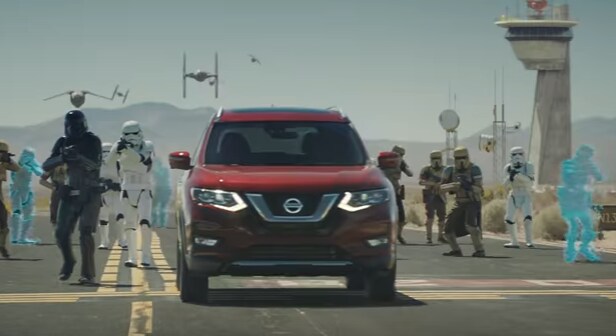 Peoria Nissan will be giving a 2017 Nissan Rogue - Special Rogue One Edition Away! Details here
Earlier this year, it was announced that Nissan and Lucasfilm would join forces to launch a global promotional campaign benefitting both the release of the redesigned Nissan Rogue and the latest Star Wars flick "Rogue One: A Star Wars Story." The first advertisement has finally released, and it is unlike any other auto commercial you've ever seen.

Stormtroopers, TIE fighters and AT-ACTS, oh my! The latest Nissan Rogue is truly ready to take on the impossible. As the Rogue makes its narrow escape through the perilous battlefield, we get a glimpse at how the crossover handles obstacles in its path with two futuristic updates: Intelligent All-Wheel Drive and Safety Shield Technologies.
The Intelligent All-Wheel Drive is both as smart as a whip and whip fast. The system responds and adapts to changing road conditions 30 times faster than the blink of an eye—or the beep of a droid—sending power to the front and rear wheels as needed while maintaining optimal efficiency. The crossover also shows off responsive handling and energetic performance, proving it can keep up with the pack.
"Safety Shield Technologies" may sound like the sort of equipment found on an X-wing fighter, but rest assured its available on the 2017 Nissan Rogue. The systems included are High Beam Assist Headlights, Rear Cross Traffic Alert, Moving Object Detection, Lane Departure Warning with Lane Departure Prevention, Blind Spot Warning and Forward Emergency Braking with Pedestrian Detection. The pedestrian detection feature can be seen in the video.
For more information on the 2017 Nissan Rogue, which will go on sale in late 2016, call or visit our Nissan dealership in Peoria today.