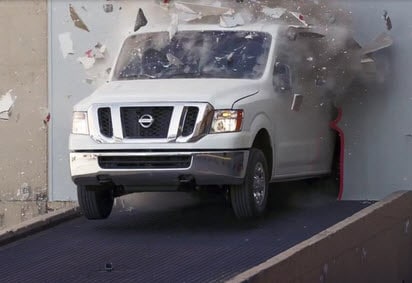 The Nissan NV has been through some tough durability challenges, over 7,000 in fact, but the latest was a unique experiment that also happened to be part of an April Fools' Day prank.
When Formula Drift legend Chris Forsberg showed up to a test drive site set up by Nissan, he thought he'd be drifting the all-new Nissan 370Z. But it turned out that Nissan's crew had another vehicle in store – the NV Cargo van. Along with extensive quality and endurance tests conducted by Nissan, the NV was also put through a desert torture test by Mickey Rourke and Carl Weathers in "The Delivery" and had a guitar smashed on its hood by Bret Michaels in "Tough Love."
The cargo van's latest celeb encounter has to be one of the most brutal, however. Just check out the video below. Forsberg doesn't let up on the NV, pushing it to the limit around a closed course. In addition to drifting, there are several obstacles, including a wall that the van bursts through before burning up the pavement.
It's pretty incredible to see what the Nissan NV Cargo van can endure. Click play below now to see it in action.
If you're looking for a tough-as-nails work van, test drive a 2016 Nissan NV200 Cargo van in the Phoenix area at Peoria Nissan!