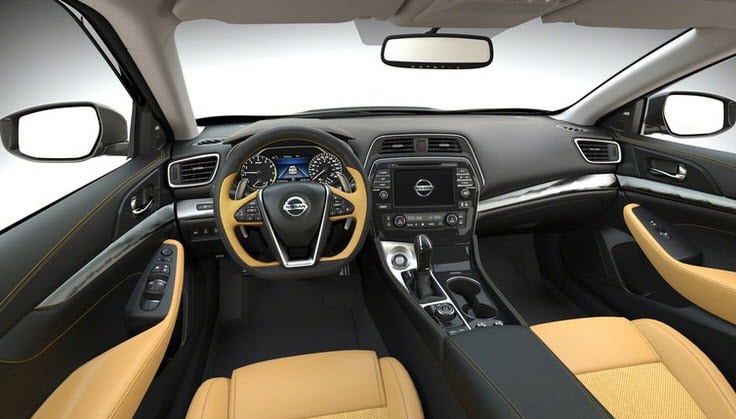 Maxima's been grabbing attention ever since it received an all-new design for the 2016 model year, and it's not just the car's exterior that people have been raving about. Recently, attention turned to its interior, which earned a spot on WardsAuto's list of 10 Best Interiors for 2016.
"This interior makes a brilliant first impression," said WardsAuto Senior Editor Tom Murphy. "The Maxima exhibits expert craftsmanship and reminds us once again why it serves as Nissan's flagship. We love the black-and-camel color scheme, two-tone flat-bottom steering wheel, 'Liquid Chrome' metallic trim and Alcantara diamond-quilted seating surfaces. Nissan took some chances with the Maxima interior, but the rewards are evident."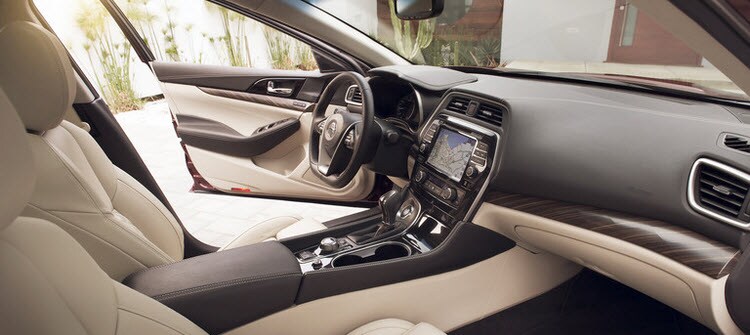 Out of 47 nominees, including 15 other sedans, with all-new or thoroughly overhauled cabin designs, the 2016 Nissan Maxima's interior stood out as one of the best. When it was restyled, the Maxima's cabin received a number of changes, including more high-quality materials, high-grade leather and faux-suede on upper trims, a new 8-inch touchscreen interface, and an overall more luxurious look.
For two months, WardsAuto editors spent time reviewing each nominee, evaluating factors like safety, comfort, materials, appearance, ergonomics, and fit-and-finish, among other aspects. Maxima stands out in all of these areas, including safety, thanks to its IIHS Top Safety Pick+ award, standard rearview camera and available driver-assist technology.
To learn more about the recently redesigned sedan, check out our 2016 Nissan Maxima review here.