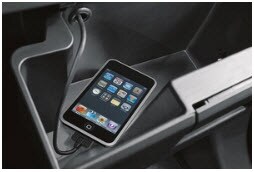 For those who no longer buy CDs, an iPod interface is a smart purchase.
If you own an older model Nissan, or a new model with no iPod input, you may be interested in Nissan's Interface System for iPods. With this device, you can listen to music on the go by plugging in your iPod and using your vehicle's current audio controls, including steering-wheel mounted controls, to navigate the system. Whether you own a 2003 Titan or a base trim from the 2013 Altima liThanks to a smart, user-friendly design, drivers can control their iPods directly from the interface, even while the iPod is tucked away in a glovebox.* You don't have to worry about draining your iPod's battery either because the interface system will charge it while in use. Any iPod with a doc connector, Generation 3 or higher, is compatible with the interface. Just make sure that your iPod is updated with Apple's latest firmware.
Nissan's Interface System for iPods is available for order on the Peoria Nissan Accessory e-Store! This device is compatible with a wide range of models and trims including:
Altima Coupe 2010 to 2013
Altima Sedan 2010 to 2012
Frontier Crew Cab 2004 to 2012
Frontier King Cab 2004 to 2012
Titan Crew Cab 2003 to 2013
Titan King Cab 2003 to 2013
Xterra 2011 to 2012
*Charging may only be supported with the use of FireWire FFD drives. An interface harness is required for use. iPod not included.